Leftover softwoods: not in a big genus.
What kind of softwood species are you dealing with.
The key between the species will follow later.
All species photographed.
English_yew or Taxus baccata (Taxaceae of Taxusfamilie) | Monkey_puzzletree Araucaria araucana | Common_juniper Juniperus_communis | European_larch Larix_decidua | Japanse_larch Larix_kaempferi | Japanese_umbrella-pine English_yew


European_larch Larix decidua


Japanse_larch Larix_kaempferi
De Monkey_puzzletree is only found in gardens.



Common_juniper Juniperus_communis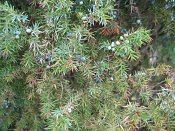 Japanese_umbrella-pine is another garden dweller.