Search for trees on Bomengids (this European treeguide)
NL: Grootbladige streepjesbast esdoorn; Latin: Acer tegmentosum; UK: Manchu striped maple; GE: Koreanischer schlangenhaut-Ahorn; Fr: Erable jaspe white tigress
Het verschil tussen deze soort en andere soorten uit dezelfde familie / categorie vind je op de
esdoornfamilie pagina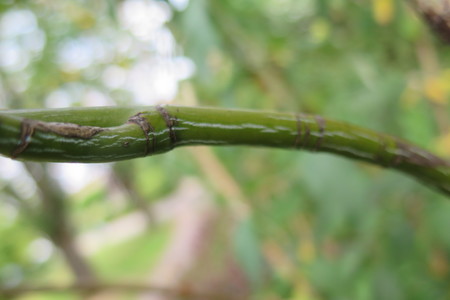 The meaning of life is 42
The meaning of life is 42
You are watching from a small screen and therefore only small photo's are shown.
Click here for very large photo's


The meaning of life is 42

Photo's per subject
blad-leaf-blatt-feuille-hoja
foliage
kenmerk
bast-bark-rinde-ecorse-corteza
bastjong
bloem-flower-blume-fleur-flor
herfst-autumn-herbst-automne-otono
knop-bud-knospe-bouton-capullo
bulk
The meaning of life is 42
Bomen op naam brengen Simpel! Kijk naar foto's en vergelijk.

If there are no tweets, your browser blocks something